Q&A WITH SYD MEAD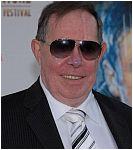 Syd Mead is one of the most celebrated concept designers of our time, having been responsible for many memorable designs from feature films to interiors and even toys. His most well-known works include production designs for Blade Runner, TRON, Aliens and 2010, the pivotal science fiction movies that got many budding visual effects artists inspired to enter professional careers in this field.
JamesCameronOnline.com had a great pleasure in conducting a short Q&A with Mr. Mead focusing on his work on Aliens. He designed the entire USS Sulaco ship, its interiors and exteriors, and also the Dropship and the APC.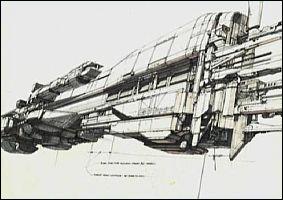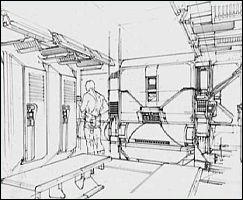 JAMESCAMERONONLINE: You have worked on such iconic scifi classics like Blade Runner, Tron and Aliens, but were you a fan of that genre before getting involved with it?

SYD MEAD: I was always drawing rocket ships from a young age. In high school I wrote a story about our 'hero' going to intercept a strange, white spaceship just beyond Mars orbit. My father read FLASH GORDON and BUCK ROGERS big/little books to me when I was four and five. I have no idea why...he was a Baptist minister! I met Robert Heinlein at his house in the Broadmoor complex when I was in High School in Colorado Springs. I read Asimov and an assortment of 'sci-fi' stories long before I worked in the movies.

JCO: Before working on Aliens, were you familiar with and a fan of the original ALIEN?

SM: Huge. Ridley Scott broke the mold of what we thought of as 'space' vehicles with the NOSTROMO. I don't know who the production designer was, but obviously with Ridley's approval, the design was dynamite and completely different from the usual sci-fi rocket. The interior, dripping with moisture, the banter of retirement benefits between two crew members...great script and brilliant directing.

JCO: When creating the very first sketches for Sulaco, did you try to stay faithful to the style presented in the original ALIEN?

SM: Not at all. I received a script which Cameron FedEx'ed to me while I was a judge of that year's USA Miss Universe contestant runoff in Florida. I designed to the script, which described a 'forest of antennae coming into frame from the left.' I originally designed a spherical ship. Cameron corrected me with the comment that the model had to go past the lens...without pulling focus. He sketched a kind of submarine affair, but long and flat. I followed that cue and came up with the SULACO. My design for the SULACO then went to model with zero changes.

JCO: Were you disappointed that James Cameron gave you such specific sketch of the Sulaco, in some ways limiting your creative freedom? Or was it simply more helpful to have such well defined idea for the final design?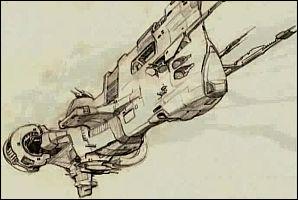 James Cameron's sketch for the Sulaco

SM: Cameron was a delight to work with. At that time he had a house on Mulholland Drive and was married to Gale Ann Hurd. His sketch was a great help. Ridley, for instance, when I was working on BLADERUNNER, did continuous line drawings (a la Moebius) which were of enormous help when I
went to do street scenes, and allowed my first submissions to go to Lawrence Paull with Ridley's approval practically unchanged.

JCO: Did James Cameron gave any specific directions or requirements about Sulaco's interiors as well?

SM: No, as I recall. Once again, I did scale cross sections and longitudinal drawings of the ship, establishing drop bay configuration, for instance. This translated directly into the design of the drop bay space, scaled to the biggest Pinewood sound stage available.

The other interiors were designed based on military warship vocabulary; everything locked down, pivoting, etc. The long-term hibernation bay and the accompanying shower facility were simply following industrial design logic; fitting the design to the function. I actually did articulation CAD drawings showing how the covers on the hyper cabinets opened. That design went into production with zero changes.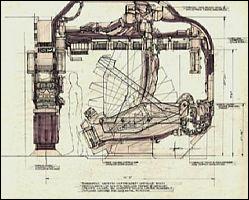 JCO: The Alien Quadrilogy set suggests that Sulaco's design symbolizes and is very reminiscent of the pulse rifle from the movie. Do you agree? Was that intentional?

SM: I've never heard that. I envisioned the SULACO as a heavily armed, interplanetary/intergalactic Freighter with loading doors along the side, a crane track and generally, an overlay of military hardware look onto a functional configuration for the drive element and the main body. The massive 'guns' on each side may have generated that theory.

JCO: Would you say that Sulaco is more of a carrier or a warship?
SM: The above answer? A heavily armed (commercial?) freighter/mission support machine.
We want to sincerely thank Mr. Syd Mead for this Q&A and wish him good luck with his future projects!