PRINTED
COMIC BOOKS BOOKS MAGAZINE COVERS
Comic Books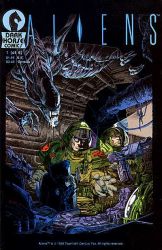 ALIENS (1988)
Published By Dark Horse Comics, 6 ISSUES
Story by Mark Verheiden, Art by Mark A. Nelson
In deep space, a salvage crew is attacked by seemingly unstoppable monsters. The marines are called in, but they need someone with experience. Soon Hicks (the horribly scarred survivor from Aliens) and Newt (now almost eighteen) find themselves on a mission to locate and destroy the Aliens' homeworld!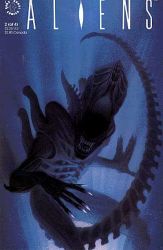 ALIENS: BOOK II (1989)
Published by Dark Horse Comics, 4 ISSUES
Story by Mark Verheiden, Art by Denis Beauvais
The world goes mad for Hicks and Newt. In their desperate attempt to escape an Earth overrun with Aliens, their ship lands at a top secret Marine Base where a crazed General is attempting to train Aliens for use in battle!
ALIENS: EARTH WAR (1990)
Published by Dark Horse Comics, 4 ISSUES
Story by Mark Verheiden, Art by Sam Keith
The Aliens still dominate the Earth, but Hicks and Newt are determined to free the planet- no matter the cost! Now, they are not alone in their struggle. An old friend and comrade comes out of hiding to aid them in their struggle, but will that be enough to win the day?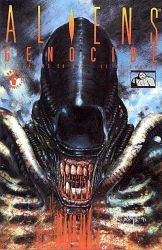 ALIENS: GENOCIDE (1991)
Published by Dark Horse Comics, 4 ISSUES
Story by Mark Richardson and John Arcudi, Art by Damon Willis
Humans have just pulled themselves out of the ruins caused by the Alien infestation of Earth. The last thing anyone wants to see is more Aliens, right? So why is billionaire Daniel Grant leading an expedition to the Alien homeworld?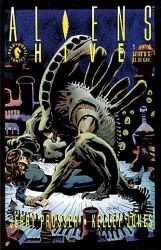 ALIENS: HIVE (1992)
Published by Dark Horse Comics, 4 ISSUES
Story by Jerry Prosser, Art by Kelley Jones
Stanislaw Mayakovsky once wrote a book about the cybernetic ant he designed to infiltrate a hive in order to gain precious knowledge about the species. Now a beautiful young thief has approached him to recreate his experiment by designing an Alien to infiltrate an Alien hive to gain something else precious: the Alien Queen Mother's royal jelly, the galaxy's most valuable commodity.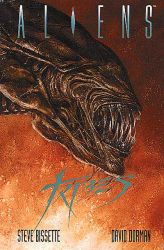 ALIENS: TRIBES Graphic Novel (1992)
Published by Dark Horse Comics
Story by Steve Bissette, Illustrations by Dave Dorman
This exquisitely produced, Smythe-sewn, embossed hardcover volume features an Aliens tale written by today's master of horror comics, Steve Bissette, accompanied by 24 full-color paintings by the most sought-after painter in the field, Dave Dorman. An Alien has been detected on board a space station orbiting Earth, and a crack extermination team sets out to destroy it. The success of their mission depends on one man's sinister secret. The story is presented in the traditional text format accompanied by full-page color paintings by Dorman. This book also features a dust jacket illustrated by Dorman.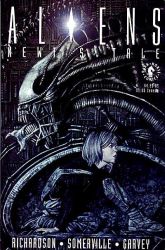 ALIENS: NEWT'S TALE (1992)
Published by Dark Horse Comics, 2 ISSUES
Story by Mark Richardson, Art by Jim Somerville
Adapted from writer/director James Cameron's original screenplay, Aliens: Newt's Tale includes all of the action you never saw in the movie: from the discovery of the derelict extraterrestrial spacecraft by Newt's parents, to the Alien attack on the colony of Hadley's Hope!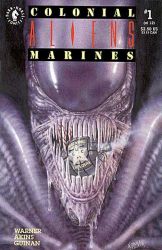 ALIENS; COLONIAL MARINES (1993)
Published by Dark Horse Comics, 12 ISSUES
Story by Chris Warner, Art by Tony Atkins
Meet Lt. Joseph Henry; the son of one of the most influential politicians on Earth, a proud member of the Colonial Marines, and a poor slob in a heap of trouble. Lt. Henry, after yet again being charged with insubordination, is put in command of a platoon of the absolute worst Marines in the sector and assigned the lowest detail in the corp -- checking up on a toxic waste dump! What Lt. Henry and company don't know is that this mission is about to go from bad to worse, because a strangely organized batch of Aliens has taken over the waste dump!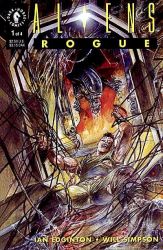 ALIENS: ROGUE (1993)
Published by Dark Horse Comics, 4 ISSUES
Story by Ian Edginton, Art by Will Simpson
The mysterious Mr. Kray is a corporate spy extraordinaire, but even he's never faced a mission this dangerous! Kray has been sent to Charon Base to check out research director Ernst Kleist's genetic experiments on Aliens. Kleist is trying to breed the beasties into something useful -- something that humans can control. But workers on Charon are starting to disappear one by one, and Kleist definitely knows more about it than he's letting on. Kray and his pilot, Palmer, may be the only ones who can unravel Kleist's schemes... that is, if they make it past his "pet" Aliens!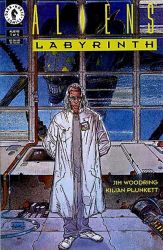 ALIENS: LABYRINTH (1993)
Published by Dark Horse Comics, 4 ISSUES
Story by Jim Woodring, Art by Kilian Plunkett
Aliens may be virtually impossible to control, but what if man could anticipate their actions? In a deep space research station, Dr. Paul Church studies Alien behavioral responses. How does an Alien track its prey? Can an Alien distinguish whether a human is armed? Will an Alien ever retreat from an attack? Test after test, patterns of behavior are revealed to Church... patterns which are predictable.

The station is carefully supervised; every precaution is taken, but everyone knows the risks. When an apparent saboteur is killed by an escaped Alien, the site of scientific research gives way to a homicide investigation. Col. Dr. Anthony Crespi, the stalwart survivor of Aliens: Backsplash (featured in Dark Horse Comics #12 and 13), suspects that the Alien subject may not have escaped on its own, and is determined to uncover the truth.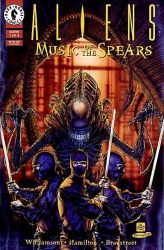 ALIENS: MUSIC OF THE SPEARS (1994)
Published by Dark Horse Comics, 4 ISSUES
Story by Chet Williamson, Art by Tim Hamilton
Little-known and under-appreciated composer Damon Eddington wants to hatch an Alien egg so he can nurture the Alien in captivity and capture its sounds of hatred and pain for the ultimate concert -- sounds of rage made from "a mouthful of spears." In this first of a four-issue series, Damon's corporate patron, Synsound, has taken on the responsibility of procuring the egg for him, a task that will lead to more excitement than the team of ninjas assigned to it were planning on.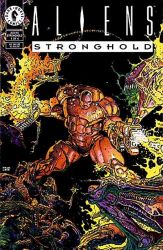 ALIENS: STRONGHOLD (1994)
Published by Dark Horse Comics, 4 ISSUES
Story by John Arcudi, Art by Doug Mahnke
On an apparently routine supply run, Philip and Joy Strunk deliver a shipment of synthetic photoreceptors to Caspar Nordling, a biotechnologist for Grant Corporation. When the Strunks find out that Nordling's experiments have exceeded Stanislaw Mayakovsky's work (as seen in Aliens: Hive), they realize that there's more to Nordling -- and Aliens -- than meets the eye. No one will want to miss this off-beat, high-action thriller from the writer/artist team that brought you The Mask and The Mask Returns!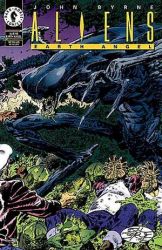 ALIENS: EARTH ANGEL (1994)
Published by Dark Horse Comics, 1 ISSUE
Story and Art by John Byrne
Into the age of diners, black leather jackets, and Buddy Holly comes a monster worse than any that ever made popcorn fly in front of a drive-in screen -- the Alien. Legend creator John Byrne has long been a fan of the Aliens films and he jumped at the opportunity to tell his story of the first Alien invasion, the one that took place in 1950's suburban America! When you Byrne an Alien, you got to figure it's going to give off some heat!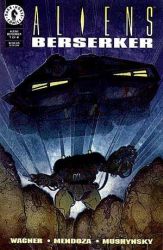 ALIENS: BERSERKER (1995)
Published by Dark Horse Comics, 4 ISSUES
Story by John Wagner, Art by Paul Mendoza
There's a ship cutting through space like a bullet, its crew a five-man surgical strike team with a single mission: Destroy Aliens! But when the crew members of the Nemesis land smack in the middle of a full-blown hive, they're not sure if it's the answer to their prayers or the beginning of a nightmare!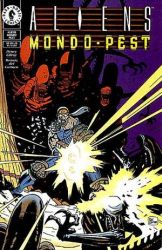 ALIENS: MONDO PEST (1995)
Published by Dark Horse Comics, 1 ISSUE
Story by Henry Gilroy, Art by Ronnie del Carmen
Stock up on ammo and lower your visor! Herk Mondo, that cigar-chomping, tail-kicking Alien-hunter extraordinaire is back, and if it isn't human, it's dead! Mondo answers a general distress call, hoping for a hefty bit of dosh from a bunch of grateful colonists, but finds himself at the business end of the planetary defense system and a surprise party of his favorite targets -- bugs!

This book collects "Mondo Pest," originally serialized in Dark Horse Comics #22-24, and includes a special sketch section featuring a behind-the-scenes look at one of the most out-of-control stories ever!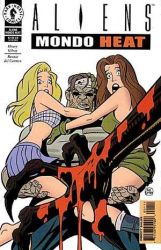 ALIENS: MONDO HEAT (1996)
Published by Dark Horse Comics, 1 ISSUE
Story by Henry Gilroy, Art by Ronnie del Carmen
When you've got a major infestation of Aliens, and the Colonial Marines are nowhere in sight, you won't find a better "exterminator" than Herk Mondo. But Herk's got a couple of big problems: he's completely unarmed in the middle of the infestation, and he's got an active volcano ready to blow beneath his feet! You can be sure of one thing, though -- the volcano may blow, but Herk'll keep his cool.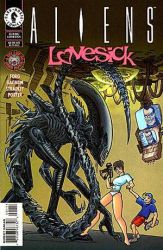 ALIENS: LOVESICK (1996)
Published by Dark Horse Comics, 4 ISSUES
Story by Thierry Gagnon & Richard Forgues & Randy Stradley, Art by Richard Forgues
Eleven-year-old Jimi has a crush on his older cousin Nancy, who's a pilot for creepy Dr. Dakien, who also has the hots for Nancy. Unbeknownst to Nancy, Dakien's not just creepy, he's completely mad, and Nancy's rejection has driven him off the deep end. He's killed himself to set in motion a plan to go after Nancy and Jimi! Between rescuing Jimi, staving off Dakien's cybernetic doppelganger, and battling the aliens Dakien has unleashed, there may not be enough Nancy to go around!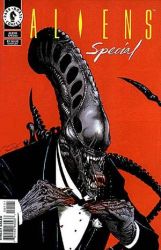 ALIENS: SPECIAL (1997)
Published by Dark Horse Comics, 1 ISSUE
Story and Art by: Various
Dark Horse provides readers with an exciting Aliens Special, featuring two all-new stories by two great creative teams. Grendel Tales and X-wing Rogue Squadron writer Darko Macan and Punisher and X-Men artist Frank Teran tell the tale of a Colonial Marine sent to clean out an infestation. He's got a job to do, a pulse bomb with a 45-second detonator, and the clock's ticking. Then, in "Elder Gods," a religious sect uncovers what they believe to be a holy idol. But everything turns to holy hell when they realize the true nature of the enormous statue! Swamp Thing writer Nancy A. Collins and Negative Burn artist Leif Jones offer a twisted story about the strength -- and weakness -- of blind faith.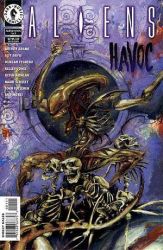 ALIENS: HAVOC (1997)
Published by Dark Horse Comics, 2 ISSUES
Story by Mark Schultz, Art by Various
One incredible story. Forty amazing creators. A hive of deadly aliens. That's what we call Havoc. Some of the biggest names in comics -- including Art Adams, George Pratt, Kelley Jones, Kevin Nowlan, and Kent Williams -- illustrate Eisner Award winner Mark Schultz's story of a haunted space station infested with aliens
ALIENS: PURGE (1997)
Published by Dark Horse Comics, 1 ISSUE
Story by Ian Edginton, Art by Phil Hester
Sybaris 503 is on the verge of a major breakthrough. They've discovered that hosts infected with leprosy have a longer-than-normal gestation period for Alien chestbursters. Before they can understand why, their funding runs out, and the "corporate financial liquidators" are sent in to seize all assets. Including the human hosts. But they'll have to go through Eloise to get them.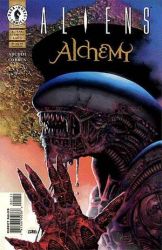 ALIENS: ALCHEMY (1997)
Published by Dark Horse Comics, 3 ISSUES
Story by John Arcudi, Art by Richard Corben
Toch's a second-generation survivor, born of a transport crew that crash-landed on a deserted, backwater planet. He may have discovered a means of getting off the mudball, but he's also discovered another impediment -- the deadly cargo the ship was carrying!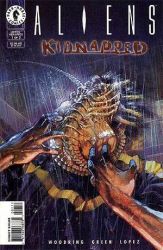 ALIENS: KIDNAPPED (1997)
Published by Dark Horse Comics, 3 ISSUES
Story by Jim Woodring & Justin Green, Art by Francisco Solano Lopez
In the dark reaches of the universe lies a remote planet that holds both forbidden pleasures and unspeakable horrors. For three naive smugglers, it's also a place to unload some deadly cargo: an Alien egg. But, something about this egg is scaring off the black marketers. And when it hatches, the nightmare's just begun.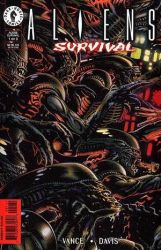 ALIENS: SURVIVAL (1998)
Published by Dark Horse Comics, 3 ISSUES
Story by James Vance, Art by Guy Davis
Thompson, a geological surveyor on a remote planet, has the perfect life. A loving wife, a son in little league, even a pesky neighbor. The only problem is, Thompson's life may be all a dream. The reality may be that he's trapped underground in an escape pod with hours to live. And, creatures with claws and acid blood are pounding on the door . . .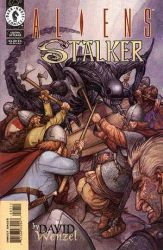 ALIENS: STALKER (1998)
Published by Dark Horse Comics, 1 ISSUE
Story by David Wenzel, Art by Tracy Munsey
In a time of myth, when Vikings ruled the land, when their berzerker rage went unmatched by anyone who opposed them. In this fierce and merciless time, the legendary warrior Rainulf the Wraith-Stalker is summoned by the granddaughter of a dead king to best a deadly enemy. But this enemy is unlike anything Rainulf has ever faced. In the dense, cold mists of this ancient land hides an invincible creature born of the Underworld -- with iron skin, dagger teeth, and blood that burns stone -- known in the far-flung future as an Alien.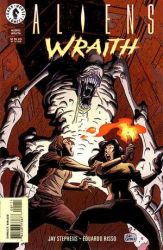 ALIENS: WRAITH (1998)
Published by Dark Horse Comics, 1 ISSUE
Story by Jay Stephens, Art by Eduardo Risso
On Earth, or in the dark reaches of space, teenagers are concerned with one thing: meeting other teenagers. It's no different for Roarke, the latest arrival to the off-world agri-colony of Tirgu-Mires. He's making new friends fast, particularly with a young girl named Hope. But there's more to this farm colony than Roarke first suspected. Every town has a dark secret not spoken in the light of day. Tirgu-Mires' secret just happens to have sharp teeth, acid blood and a murderous hunger for human flesh.
ALIENS: APOCALYPSE - THE DESTROYING ANGELS (1999)
Published by Dark Horse Comics, 4 ISSUES
Story by Mike Schultz, Art by Doug Wheatley
An Alien "angel" has been met, as veil after veil is lifted, and Alecto Throop begins to grasp the enormity of the forces at work behind Dr. Keitel's deception. But, the Aliens may represent only the brink of an unfathomable pit of cosmic horror. Join Throop Rescue and Recovery as they follow the elusive Keitel to a petrified world that was ancient long before life first crawled on Earth. Our universe has never seemed so big. . . so old. . . or so hideously dark.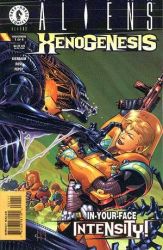 ALIENS: XENOGENESIS (1999)
Published by Dark Horse Comics, 4 ISSUES
Story by Tom Bierbaum & Mary Bierbaum, Art by Dave Ross
This is it: the future of Aliens starts now with Xenogenesis! In the distant future, the existence of the horrific Aliens is no longer a secret. Now, with space colonies scattered throughout the galaxy, a mega-corporation has formed a strike force to take the offensive against the monsters. For the first time, humanity has a fighting chance!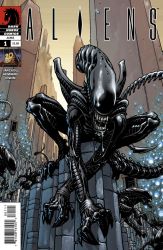 ALIENS (2009)
Published by Dark Horse Comics, 4 ISSUES
Story by John Arcudi, Art by Zach Howard
A group of wildcat planetary prospectors plant their flag on a distant new world, rich in land, resources . . . and mystery. Within this seemingly uninhabited planet lies the greatest archaeological discovery in history, an ancient, abandoned complex of impossible proportions carved deep within the living rock, a mind-numbing labyrinth of passages, ramps, bridges, and galleries that seems to extend limitlessly. But as the exploration of the leviathan dead city proceeds deeper and deeper, the members of the team slowly begin to lose their grip on reality. But madness gives way to fear as the explorers begin to disappear one by one. Something else lives within the necropolis, a faceless horror as deadly and merciless as space itself, a lethal terror that has waited centuries to awake . . . and destroy.

At long last, Dark Horse Comics heralds the return of the heavyweight champion of modern science-fiction/horror, Aliens!
Books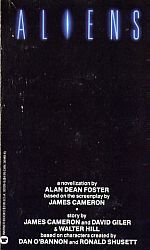 ALIENS: NOVELIZATION (1986)
By Alan Dean Foster
Published by Warner Books
Novelization of the movie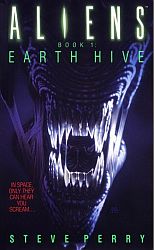 ALIENS: EARTH HIVE (1992)
By Steve Perry
Published by Spectra
From the Publisher
Wilks was a space marine with a near-fatal flaw: he had a heart. Billie was a child, the only survivor of a far-flung colony outpost. Thrown together in the last hellish night of an alien invasion, Billie and Wilks helped each other get out alive. Thirteen years later Wilks is in prison, and Billie lives in a mental institution, the nightmare memories of the massacre at Rim seared into her mind. Now the government has tapped Wilks to lead an expedition to the aliens' home planet to bring back a live alien. But the competition on Earth to develop the aliens as a new weapons system is brutal. When Wilks's team departs on their mission, a trained assassin trails them. And what follows is no less than guerrilla warfare on the aliens' planet--and alien conquest on Earth!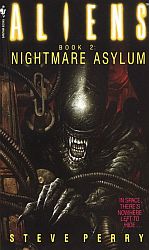 ALIENS: NIGHTMARE ASYLUM (1993)
By Steve Perry
Published by Spectra
Wilks, Billie, and Bueller were the last survivors of a devastating assault on the aliens' home planet. But once their return to the solar system made them refugees once more, fleeing Earth and its alien infestation in a desperate attempt to stay alive. Now, in an otherwise unmanned military transport, they hurtle through space. Destination: unknown.

Little do they know that the cargo they carry with them is a legacy of death that they will ultimately have to face. Nor do they know that they head toward a remote colony and military outpost. This pocket of humanity at the very edges of space is at the mercy of a general names Spears with an agenda all his own. Now Billie, Wilks, and Bueller face a new nightmare, and it is nothing they could ever have imagined: a gift of madness from an alien world, unbalanced mind, and the experiences of a mysterious pilot named Lieutenant Ellen Ripley.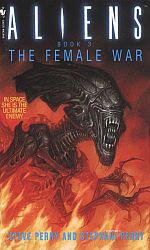 ALIENS: THE FEMALE WAR (1993)
By Steve Perry
Published by Spectra
Lieutenant Ellen Ripley awoke from her long journey in space with a hole in her memory and an overwhelming drive to survive. When she meets Wilks and Billie, two battered veterans in the war against the aliens. She realizes she's found two comrades in arms--and she's ready to take up the fight. Only then does she discover the devastating secret that lurks behind her long sleep. When she, Wilks, and Billie prepare to meet the aliens head-on to turn a powerful alien queen against her spawn in a battle intended to save Earth, that secret becomes her greatest weapon--and her greatest liability. As the fate of Earth hangs in the balance, Ripley and Billie must come to terms with what it means to be an alien . . . and what it means to be human.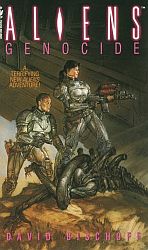 ALIENS: GENOCIDE (1994)
By David Bischoff
Published by Weidenfeld Military
Their queen is dead and the hive mind has been left to flounder on its own. On a world bereft of its only guiding force a schism is taking place: two strains of alien, formerly united by one all-powerful mother, now divide their forces for a world-shattering, acid-drenched war. On Earth, after a generation of rebuilding in the wake of alien infestation, athletes from every corner of the world are flocking to humanity's Goodwill Games. But some come with a dangerous new tool: a drug called Fire, distilled from the very essence of the aliens' body chemistry. The military wants it, Pharmaceutical kingpin Daniel Grant wants it. And the only place the essential ingredient can be found is on a world convulsed by alien holocaust.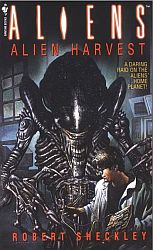 ALIENS: ALIEN HARVEST (1995)
By Robert Sheckley
Published by Bantam
This time the humans are taking the offensive! Stan Myakovsky is a once-famous scientist fallen on hard times. Now he dodges spaceship repo men and dreams of the marketability of his cybernetic ant. Then a woman named Julie Lish walks into his life. She is beautiful, mysterious, and totally amoral. She is also skilled in the arts of thievery and Oriental self-defense. What's more, she has a plan so outrageous there might be one chance in a million to pull it off.

Together Stan and Julie become the most unlikely pair of pirates in the universe. With a hijacked spaceship and a crew of hardcase misfits, they're searching for the ultimate pot of gold at the end of a bloody intergalactic rainbow: royal jelly from an alien hive. The only problem is that the fortune lies on the universe's most godforsaken planet. And once they get their hands on it, they'll have to fight their way past the aliens to get off the planet alive.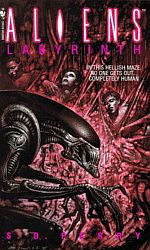 ALIENS: LABYRINTH (1996)
By Steve Perry
Published by Spectra
Eager to work with the famous Doctor Paul Church, who is conducting experiments on a fascinating alien species, Colonel Doctor Tony Crespi and Lieutenant Sharon McGuinnes uncover a shocking truth at the space station Innominata.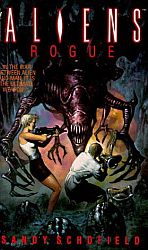 ALIENS: ROGUE (1995)
By Sandy Schofield
Published by Spectra
Welcome to the former penal colony of Charon, now an Alien hive where Professor Kleist rules, whose specialty is making people disappear. Captain Joyce Palmer and her marines are bound for Charon to stop Kleist, and only they too can stop his creation, the ROGUE.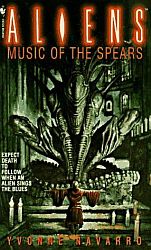 ALIENS: MUSIC OF THE SPEARS (1996)
By Yvonne Navarro
Published by Spectra
Driven to madness by his rage against the ugliness of life in Manhattan in the year 2214, a composer tries to shock the world out of its ugliness with a fiendish piece of music and an alien called Mozart.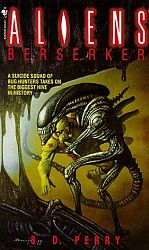 ALIENS: BERSERKER (1998)
By Steve Perry
Published by Spectra
It is called a Berserker team--reckless, desperate volunteers recruited by the Company to destroy alien infestations.
Based on the spaceship Nemesis, it consists of three brutal ex-cons who do all the grunt work and the Berserker itself, code-named MAX: an armed and armored exoskeleton powered by the living brain of what was once a human, configured into an unstoppable killing machine.
When the Nemesis is sent to a massive space station, D.S. 949, the team finds an alien hive, the largest in history, with nearly a thousand hapless humans cocooned and incubated. The team mission: to destroy the aliens while leaving the terminal intact. The mission seems like suicide to the bug hunters and their small support staff. And that is perfectly fine for the Company...which wants no witnesses left to the terrifying secret of D.S. 949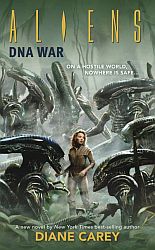 ALIENS: DNA WAR (2006)
By Diane Carey
Published by Dark Horse
In an inhospitable galaxy, Rosamond 6 seems to have everything needed for human habitation: a moon, an atmosphere, a thriving biosystem. But although it looks like an oasis, the planet harbors a fatal secret: murderous aliens that have wiped out every life form in their path. Anthropologist Jocasta Malvaux is eager to prove her theory that the aliens can be reasoned with, so she sets up an observation post on Rosamond 6. Amazingly, when the monsters become aware of Malvaux and her expedition, they don't attack. What's the reason behind the Aliens' seeming lack of concern for the humans? Are they evolving? Or are they simply lying in wait? Expanding on Ridley Scott's classic film, Aliens: DNA War continues the chilling saga of the intrepid men and women who fight to stay alive against an opponent that sleeps, breathes, and breeds with just one goal: to kill.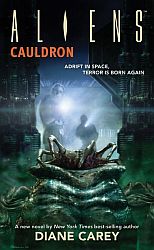 ALIENS: CAULDRON (2007)
By Diane Carey
Published by Dark Horse
Space: the most hostile environment in the universe. In the cargo hold of the spaceship Virginia, a hive of hibernating aliens begins to awake. Meanwhile, on the Umiak, an elite troupe of cadets is forced into servitude by an unscrupulous captain taking the ship to a smuggler's rendezvous with the eerily silent Virginia. When the cadets unsuspectingly transport the aliens onboard, they start a battle for their lives, fighting the smugglers, the captain, and the monsters who among them. The war is about to begin . . .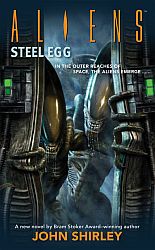 ALIENS: STEEL EGG (2007)
By John Shirley
Published by Dark Horse
Someone on Earth knew about the aliens. Someone battled them, and survived. Before Ripley, there was a first encounter. Aliens and humans have fought before. . .

When a human spaceship discovers a vast egg-shaped vessel in Saturn's orbit, the crew powers in to investigate. Thinking the ship might contain usable metal for Earth, they force their way aboard. Three teams split up to explore the ship. Already the aliens have awoken. The first of all the battles unfolds.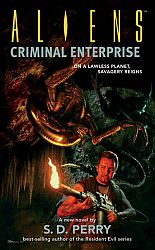 ALIENS: CRIMINAL ENTERPRISE (2008)
By Steve Perry
Published by Dark Horse
Thomas Chase wakes up from cryosleep to his first day at a new job--as a pilot for a contraband drug company dropping a shipment on Fantasia, a rock-planet terraformed to hide an elaborate drug manufacturing operation. Everything from synthetic heroin to MX7 is cooked here, in protected caves guard-dogged by the savage Aliens.

When Chase's craft touches down on Fantasia, a chain of events begins that cannot be stopped. As criminals and competitors try to take over the drug empire from the dangerous kingpin, Chase and his brother Pete are caught in the crossfire . . . with the Aliens adding blood to the mix.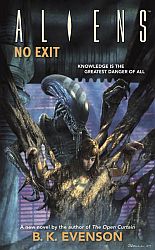 ALIENS: NO EXIT (2008)
By B.K. Evenson
Published by Dark Horse
After thirty years of cryogenic sleep, Detective Anders Kramm wakes to a changed world. The alien threat has been subdued. Company interests dominate universal trade. Terraforming is big money now, with powerful men willing to do anything to assure dominance over other worlds.
But Kramm has a secret. He knows why The Company killed twelve of its top scientists. He knows why the aliens have been let loose on the surface of a contested planet. He knows that the information he has is valuable, and that The Company will do everything it can to stop him from telling his secret to the world.
Haunted by memories of the brutal murder of his family, Kramm is set adrift amid billion dollar stakes . . . with aliens around every corner, waiting for him to make a mistake.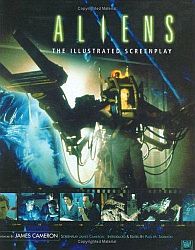 ALIENS: THE COMPLETE ILLUSTRATED SCREENPLAY (2001)
By Paul M. Sammon
Published by Orion
For the first time the complete script of James Cameron's Aliens has been cleared for publication. The package will be the complete script including scenes filmed but not released into the theatres and hitherto unseen stills from the film.
Magazine Covers