Dark Angel is an American biopunk/cyberpunk science fiction television program created by James Cameron and Charles H. Eglee. Dark Angel premiered in the United States and Canada on the FOX network on October 3, 2000, and run for two seasons. The show chronicles the life of Max Guevara (X5-452), a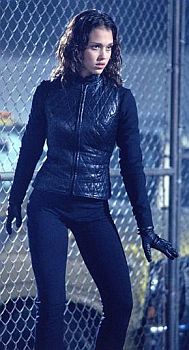 genetically enhanced super-soldier, portrayed by Jessica Alba as an adult, and Geneva Locke as a child. The program is set in Seattle, Washington, USA, but was actually filmed in Vancouver, British Columbia, Canada at Lions Gate Studios.
In the year 2009, a genetically enhanced, 9-year-old female super-soldier who calls herself Max Guevara (Jessica Alba), escapes along with eleven others like her from a secret government institution, codenamed Manticore, where they were born, raised and trained to be soldiers and assassins. On June 1, 2009, months after Max's escape, terrorists detonate an electromagnetic pulse weapon in the atmosphere over the U.S., which destroys the vast majority of computer and communication systems, throwing the country into utter chaos. With complete lack of instant communication, the country has almost become an anarchist state.
The first season begins ten years later in 2019, as it follows the life of the now 19-year-old Max as she struggles to search for her Manticore brothers and sisters. In a United States which is now barely more than a Third World nation, she tries to live her life, evade capture, and learn to trust and love. She is aided by Logan Cale (Michael Weatherly), an underground cyber-journalist with the alias Eyes Only, Zack, a fellow X-5, her roommate for a time, Kendra (Jennifer Blanc), and her friends Original Cindy (Valarie Rae Miller), Herbal Thought (Alimi Ballard) and Sketchy (Richard Gunn) at Jam Pony, a courier company where she works as a bicycle messenger. Other X-5's are periodically introduced as well. One or two times a year, Max comes into 'heat' and experiences wild sexual urges as a result of her feline DNA.

In the second season of the show, the tone changes as Max brings down Manticore and frees the soldiers. She is helped in her escape by Alec (Jensen Ackles), in an attempt to facilitate the assassination and capture of Eyes Only and Joshua (Kevin Durand), a transgenic with canine DNA. She later learns that Joshua was the first transgenic created by Manticore's founder Sandeman. Max also finds out that Manticore produced soldiers for speciality environments such as desert and arctic conditions and consequently look vastly different from normal humans. A major theme in the second season is the discovery of an even more deadly enemy in a millennia-old breeding cult similar in structure to the Illuminati. This has resulted in humans even more formidable than the Manticore-produced transgenics, and even some with strong telekinetic powers. Ames White (Martin Cummins), a government agent introduced early in the second season trying to eliminate the loose transgenics, is revealed to be a member of the cult. When a strange message written in Max's genetic code makes an appearance on her skin, it is revealed that Sandeman is a renegate from the breeding cult. Ames White is Sandeman's son, which makes him related to Max and her transgenic brethren. However, the series was cancelled before the producers could play with this dynamic.
The first season of the show premiered on Fox on Tuesday, October 3, 2000. The show aired on Tuesday nights after That '70s Show and Titus during the 2000 - 2001 television season and did well with both critics and audiences, averaging 10.1 million viewers during its first season on the air.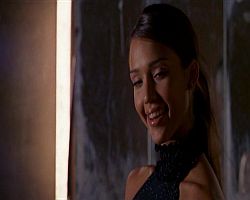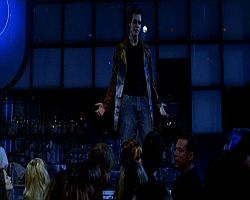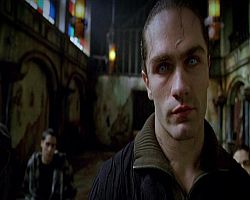 The following season, however, FOX made the bold decision to move Dark Angel to Friday nights preceding the network's new series Pasadena in order to try and reverse their string of bad luck with the Friday night death slot curse and to give the network's new series 24 a better time period during the week. Their efforts to improve Friday nights were unsuccessful though as Pasadena failed to find an audience and was canceled before the end of its first season on the night, while Dark Angel saw its second season audience drop by nearly 4 million viewers between the first and second seasons, resulting in its inevitable cancellation as well, despite a strong and vocal fan base and a finale directed by series creator James Cameron.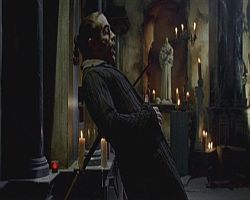 Though fans of the show attribute Dark Angel's decline in ratings to FOX's decision to move the series to a lower-rated night of the week, many also cite changes in the show's format and tone during its second season as reasons for the large decrease in viewership. These changes were said to be a result of budgetary concerns -- any high-concept television series that heavily utilizes special effects are expensive to produce -- and the departure of several actors, as John Savage, Alimi Ballard and Jennifer Blanc had all left the series as regulars and popular recurring actors William Gregory Lee and Nana Visitor had been written out of the show prior to its cancellation. The final episode of the series aired on May 3, 2002.

After the end of the show's second season, a third season appeared to be close to getting the green light, but FOX instead canceled the show at the last minute in order to make room for Buffy the Vampire Slayer creator Joss Whedon's new science fiction series Firefly on the network's schedule. Ironically enough, Firefly suffered the same fate as Dark Angel and was subsequently canceled the following season as well.

Though canceled due to sagging ratings in its second season, Dark Angel has high availability with most on-demand services as the Sci-Fi Channel in the United States and E4 in the United Kingdom regularly air reruns of both seasons. As of 2003, both seasons of the show are also widely available on DVD.
DARK ANGEL EPISODE LIST
_________ TITLE DIRECTED BY AIRDATE_________________

"Pilot" David Nutter October 3, 2000
While delivering a package for Jam Pony Express, Max makes plans to break into a penthouse apartment to steal a few items to help finance her search for her Manticore "siblings."

"Heat" Michael Katleman October 10, 2000
In return for Max's help in dealing with a smuggler trafficking in human cargo, Logan locates a woman who gave Max a ride after her escape from Manticore ten years earlier.

"Flushed" Terrence O'Hara October 17, 2000
Believing Max is on drugs, Kendra and Original Cindy flush Max's tryptophan pills down the toilet unaware that without the medication Max will have seizures that could lead to her death. Max breaks into a hospital to get the medication she needs, but is arrested.


"Cash Rules Everything Around Men" Chris Long October 31, 2000
Max comes to Sketchy's rescue after he loses a mobstar's money filled package. Meanwhile, Logan is approached by a young woman who wants him to locate her missing father but has a hidden agenda.

"411 on the DL" Joe Ann Fogle November 14, 2000
Max is convinced that the private detective she hired can reunite her with the leader, escapee, and best friend, Zack, just as Logan is convinced his ex-wife has suddenly changed her ways.

"Prodigy" David Jackson November 21, 2000
Max, Logan and Lydecker get trapped in a hostage situation together when the genetic engineering conference they attend is taken over by a group of anti-genetic engineering terrorists.

"Cold Comfort" Jefery Levy November 28, 2000
Max and Zack find themselves teaming up with Lydecker after one of their fellow X5 "siblings" is captured by a group hoping to sell Manticore technology to a foreign government.

"Blah Blah Woof Woof" Paul Shapiro December 12, 2000
When Lydecker floods the city with wanted posters of Max, Max decides it would be best for everyone if she left Seattle- but then she learns Logan's medical condition has worsened.

"Out" Sarah Pia Anderson January 9, 2001
Max and Logan have a falling out when he stands her up for his Eyes Only work.While the gang at Jam Pony wonders if they should tell Normal his new love interest is a "he," not a "she," Logan is captured by a smuggler demanding to know the identity of Eyes Only.

"Red" Michael Katleman January 16, 2001
After Logan sends Max to protect a man testifying against the Mayor, he realizes that the hit men Max is protecting the witness from are really Red Series super-soldiers after her.

"Art Attack" James Contner February 6, 2001
While attending a wedding with Logan, Max receives a call from Original Cindy asking for help in straightening out a Jam Pony delivery mix-up which has put Normal's life on the line.

"Rising" Duane Clark February 13, 2001
When the Red Series soldiers take Original Cindy hostage, Max risks her own life in order to save the life of her friend- even though it will force her to reveal her hidden past.

"The Kidz are Aiight" Jeff Woolnough February 20, 2001
Recaptured by Lydecker, Zack is drugged in hopes that he'll reveal the location of the other X5 escapees. Then Zack is set free so he can make contact with an unsuspecting Max, both unaware he has an implant in his ear which will relay every word he says back to Lydecker.

"Female Trouble" John Kretchmer March 13, 2001
While investigating a woman doctor who is supposedly helping Logan regain the use of his legs, Max encounters one of the X5s who chose to remain behind during the Manticore breakout.

"Haven" Michael Rhodes March 27, 2001
An investigation takes Max and Logan to a small town where Max's unexpected seizures leave the wheelchair-bound Logan to fight off an attack when a bunch of men try to kill them and a boy that has become close to Max.

"Shorties in Love" Paul Shapiro April 17, 2001
Max becomes suspicious when Original Cindy's old girlfriend, Diamond, shows up after being paroled from prison and wants to rekindle their relationship.

"Pollo Loco" Thomas J. Wright April 24, 2001
Max searches for a fellow X5 named Ben who has been tattooing his barcode onto the necks of his victims then ritualistically killing them and puling out their teeth for the 'blue lady'.

"I and I Am a Camera" Jeff Woolnough May 1, 2001
Max and Logan team up with a crime fighter with super-human abilities(Rainn Wilson) when they investigate the mysterious deaths of several parolees that leads them right to Logan's family.

"Hit a Sista Back" James Whitmore, Jr. May 8, 2001
Max discovers Lydecker is the least of her worries when she and Zack try to rescue Tinga, a fellow X5 whose genetic makeup allows her to pass X5 traits on to her offspring.

"Meow" D.J. Caruso May 15, 2001
Finding herself in heat again, Max doesn't dare show up for Logan's special anniversary dinner. When she finally does decide to tell Logan how she feels, Zack interrupts with news of Tinga. They go to rescue her, but discover that they are too late as Lydecker has the facility surrounded.

"…And Jesus Brought a Casserole" Joe Ann Fogle May 22, 2001
(Continued from Episode 21) Max holds a dead Tinga in her arms when Donald Lydecker and his troops storm in. However, Lydecker gets double-crossed after Madame X's power play and is on the run with Max. Max easily over powers him and gets his help in destroying the DNA lab at Manticore. During the escape from Manticore, Max gets shot and Zack get captured. Zack shoots himself in the head to provide an X5 donor heart for Max.


"Designate This" Jeff Woolnough September 28, 2001
Once again a prisoner of Manticore, Max plans an escape with the help of her "breeding partner", Alec (Ben's twin), and a human-canine experimental creature named Joshua.

"Bag 'Em" Vern Gillum October 5, 2001
Lydecker warns Logan to keep Max away from Manticore even as Max tracks down the young recruits who escaped the same night she caused Manticore's self-destruction.

"Proof of Purchase" Thomas J. Wright October 12, 2001
As Alec is recaptured by Manticore and Joshua begins hunting for his "father," Lydecker seemingly disappears after discovering a secret archaeological dig at an Indian burial site.

"Radar Love" Jeff Woolnough October 26, 2001
The episode starts off with Joshua finding his way to Max with his canine sense of smell. Asha Barlow says a couple of derogatory things about Max and the other transgenics. A mutant with a mutilated face and bleeding skin goes around in China Town, believed to be infecting people. He gets shot while saving a boy at a motel and, during an autopsy, is believed to be clean of any infecting agents. Asha gets caught while trying to illegally get through a sector checkpoint and is rescued by Max. Joshua stays at the Sandman's house to avoid getting seen in public. The infection is later determined to be an infection agent deployed through a hand-held fireworks launcher targeted at specific gene patterns. The plan to deploy an infection agent targeted at transgenics is foiled by Max and Logan.

"Boo" Les Landau November 2, 2001
A night of Halloween trick-or-treating is the perfect cover-up for Joshua, who is delighted at the opportunity to get out of the house without attracting attention. Rafer and Max grow closer while encountering transgenetic Manticore creations.

"Two" Allan Kroeker November 9, 2001
Max has her hands full when Alec gets a job at Jam Pony in order to case potential robbery targets and Joshua's "man-dog" brother begins attacking and killing cops.

"Some Assembly Required" Nick Marck November 16, 2001
Believing Zack killed himself when they were captured by Manticore, Max is shocked to see him on some security camera footage robbing a store with a group of Steelheads.

"Gill Girl" Bryan Spicer December 7, 2001
Max, Alec and Logan do battle against Manticore clean-up operation head Ames White after a mysterious girl with gills is pulled out of the sea by a group of fishermen.

"Medium is the Message" Jeff Woolnough December 14, 2001
Max and Logan discover that genetic breeding has gone on for generations after being contacted by a woman asking for help in finding her six-year-old son.

"Brainiac" Stephen Williams January 11, 2002
While investigating the arrest of an S1W cell with the help of a Manticore escapee able to predict the future, Max begins to suspect Logan has fallen in love with Asha.

"The Berrisford Agenda" Thomas J. Wright January 18, 2002
Alec goes with Max on a Jam Pony run and is stunned when they make a delivery to a mansion where he went undercover for Manticore- and ended up causing the death of a girl he loved.

"Borrowed Time" David Straiton February 1, 2002
While Max is busy stealing footage from a classic sci-fi movie to pay for a cure that will allow her and Logan to be together, Joshua encounters the deadly Manticore creation called Gossamer.

"Harbor Lights" Kenneth Biller February 8, 2002
Ames White closes in on Max after she stumbles into a police shoot-out and ends up in the hospital where the virus in her blood is detected.

"Love in Vein" David Grossman March 8, 2002
While Alec secretly has Joshua deliver his Jam Pony packages, Max encounters a group of "Bloods" who are under the spell of a transgenic who makes them drink his blood.

"Fuhgeddaboudit" Morgan James Beggs March 15, 2002
Max, Alec and Logan begin experiencing strange memory lapses (which are caused by a Manticore transgenic named Mia) while trying to get a mob accountant for a crime syndicate to rat on his boss.

"Exposure" Stephen Williams March 22, 2002
Max and Logan finally trace Ames White's son to Brookridge Academy only to find him involved in a mysterious cult ceremony taking place in a temple on school grounds. At the same time Sketchy gets a job for the mutants magazine and is on the look out for mutants from Manticore, and Max and Alec are getting worried.

"Hello, Goodbye" Jeff Woolnough April 5, 2002
While Joshua befriends a blind girl named Annie, Max struggles to deal with her overwhelming guilt when Logan nearly dies after unintentionally touching her. Meanwhile, Alec is arrested for a murder committed by his twin Ben.

"Dawg Day Afternoon" Kenneth Biller April 12, 2002
With the television full of news reports about dangerous transgenics, a lonely Joshua is quickly spotted when he leaves his house in search of his friend Annie.

"She Ain't Heavy" Allan Kroeker April 19, 2002
White uses Max's clone to track her down as increased tensions force Logan to flee from his apartment forever, Max to leave Seattle and Joshua to make his way to a place where transgenics don't have to hide - Terminal City.

"Love Among the Runes" James Whitmore, Jr. April 26, 2002
As Logan sets up a new Eyes Only location in Joshua's old house, ancient writings appear on Max's arm, then quickly spread to cover her whole body.

"Freak Nation" James Cameron May 3, 2002
The gang at Jam Pony find out Max and Alec are transgenics after a young X6 and a pregnant X5 take cover inside the building and an angry mob and police gather outside. The Conclave sends elite warriors the 'Phalanx' after Max This is the series finale, as the show was cancelled afterwards by FOX and not renewed for a third season.