Q&A WITH IAN NATHAN, THE AUTHOR OF "TERMINATOR VAULT: THE STORY BEHIND THE TERMINATOR AND TERMINATOR 2:JUDGMENT DAY"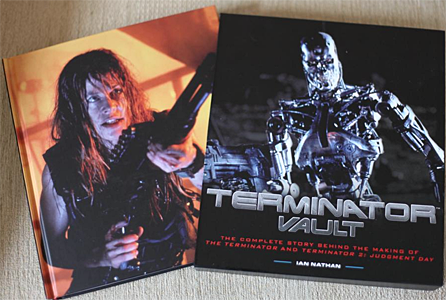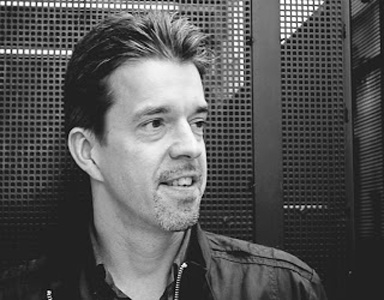 Ian Nathan is the executive editor of the Empire magazine. He also wrote a highly acclaimed book on 1979's Alien, "Alien Vault: The Definitive Story of the Making of the Film" and now returns to give us a phenomenal book on two iconic movies that changed film history, The Terminator and Terminator 2: Judgment Day. The announcement of the book stirred some excitement among the original Terminator fans and JamesCameronOnline.com decided to ask some of the most frequent fan questions to find out more about the book
JAMESCAMERONONLINE: The James Cameron/Terminator community is pretty excited about the book because it focuses on the Terminator Duology, as oppose to the latter sequels. Many fans mentioned that a hardcover, illustrated book for only the first two movies is like a dream come true. Along with the announcement of the release date, some questions come to mind
You've done an excellent job on Alien Vault. Not only it was a book that had a terrific design, but terrific content as well. Even thought there had been books on the movies such as The Making of T2 and audio commentaries on various video releases, it's still exciting to have all that collected in one neat package. The natural question is, with all the information already released on the movies, will there be any surprises? Will there be some obscure facts or anecdotes?

IAN NATHAN: As with Alien Vault, you do start terrified that there is nothing new to said about these films, they are served so well by DVD, previous books, and the encyclopedic coverage given by fan sites. It's hard to gauge exactly what fans do and don't know. My mission parameter was to unearth as much as I could, but just as importantly, sort through the reams of fact already in circulation to get as near as I could to the reality of the making of these films and hopefully express that in an engaging way. To tell a really good story. Still, in talking to James Cameron, the stars and all the behind the scenes guys, there were things I had certainly never encountered before that I hope might surprise even the most avid of fans. I don't want to give too much of my gold away, but who knew that one foolish producer suggested that Kyle Reese arrive from the future with a robot dog! That Bruce Springsteen was on the list of potential Kyles? Or that while shooting Aliens, Cameron decided he would only produce the Terminator sequel and offered the film to Martin Campbell over lunch? Campbell's TV series Edge of Darkness had had Cameron and Hurd riveted while in the UK. There's plenty more, for instance I have really tried to get down to the detail of the legendary lunch where Cameron first met Arnold Schwarzenegger (there are so many different versions).


JCO: The word goes around that you conducted brand new interviews for this book, and that one of the people you spoke with was Jim Cameron? Is it true and if so, who else did you interview for the project?

IN: I had two wonderful, fascinating hours with Mr. Cameron, who was on sparkling form, looking back on the films with honest eyes, and reliving many of his tribulations all over again (some things never leave you!). Gale Anne Hurd gave very kindly of her time. And working for Empire movie magazine (plug, plug) has granted me access over the last few years to Michael Biehn, Edward Furlong, Robert Patrick, Linda Hamilton, Mr. Schwarzengger himself, and the guy he runs over in the "I'll Be Back" sequence! Just as valuably, incredible technical detail was given by a host of behind the scenes guys, such as Mark Goldblatt, Gene Warren Jr. Joe Visckocil and producer Mike Medavoy.

JCO: What were the sources you used for the research outside the interviews?

IN: Of course, you use everything you can . I was raiding archives for features and articles from the early 80s from all over the world, watching obscure TV interviews with the stars, reading back issues of Variety and The Hollywood Reporter, using all the biographies and screenplays, basically anything I could lay my hands on. It was a real journey into the past!

JCO: Arnold Schwarzenegger wrote the prologue for the book. Have you also tried to reach James Cameron?

IN: Arnold was very kind with his input, what better endorsement than that? Although, it was terrifying to think he got to read the manuscript! As mentioned Mr. Cameron gave very generously of his time and is, basically, the backbone of the book.

JCO: Can the fans expect a book on Aliens?

IN: The publishers and I are toying with a few ideas. I would love to do Aliens, but there are always hugely complicated rights issues to overcome in terms of getting the picture material. These book only work with a very particular kind of movie. Movies that are not just popular, but inspire genuine love. I have some other ideas to, but feel free to pitch any! He-man? Zardoz? Batteries Not Included? Too niche?
READ OUR REVIEW HERE
JCO wants to thank Mr Nathan for taking time to answer our questions. You can purchase the book on Amazon