1.WHEN DOES THE MOVIE TAKE PLACE?
The present day story takes place in 1996. It's easy to deduct from Rose's age and how old she was in her story and in the 'present' day. Also, Old Rose says "It's been 84 years, and I can still smell the fresh paint." 1912+84=1996. The historic part takes place between 10 April 1912 and 15 April 1912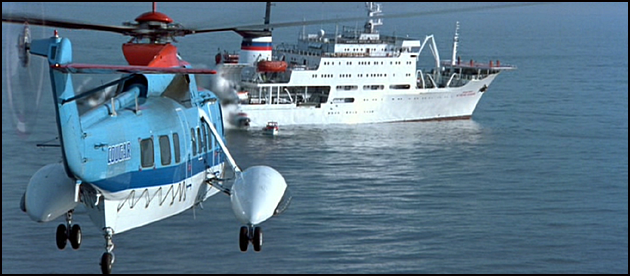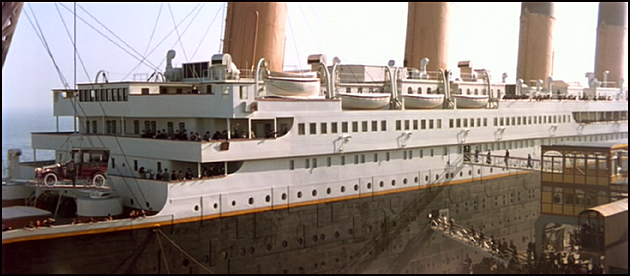 The Titanic was 882 feet 9 inches (269.1 m) long and 92 feet 6 inches (28.0 m) wide, with a gross register tonnage of 46,328 long tons and a height from the water line to the boat deck of 59 feet (18 m).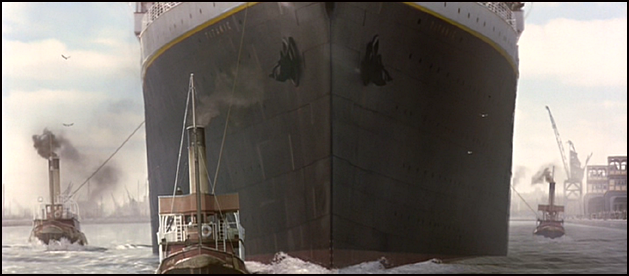 The ship could carry a total of 3,547 passengers and crew and, because she carried mail, her name was given the prefix RMS (Royal Mail Steamer) as well as SS (Steam Ship)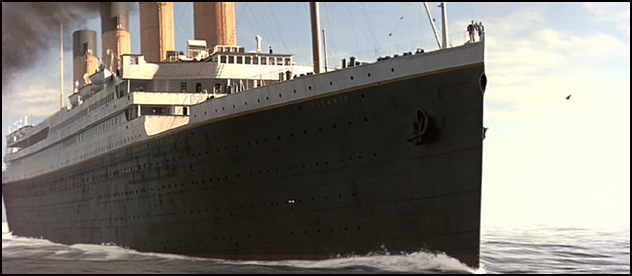 The movie replica, just like the original ship, was 60 feet from the boat deck to the water. Certain repetitive lengthwise sections of the ship were omitted, which made it shorter than the original 882.9 foot ship. The movie ship had only been completed on one side. As a result, there are several scenes in which the ship is reversed, such as in the "I'm the king of the world" scene where the crew galley skylight gives the reversal away. Very few of the ship's interiors were built into the replica's framework itself. Most were built on neighboring sound stages. The set designs, costumes and the ship itself were meticulously recreated. In several cases, James Cameron even hired the original manufacturers to reproduce such things as carpets and lifeboat davits.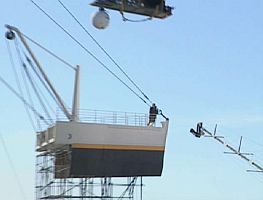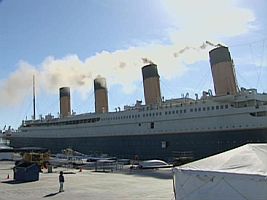 3.HOW FAST COULD THE TITANIC TRAVEL?
There were 29 boilers fired by 159 coal burning furnaces that made possible a top speed of 23 knots (43 km/h; 26 mph). Only three of the four 62 feet (19 m) funnels were functional: the fourth, which served only as a vent, was added to make the ship look more impressive.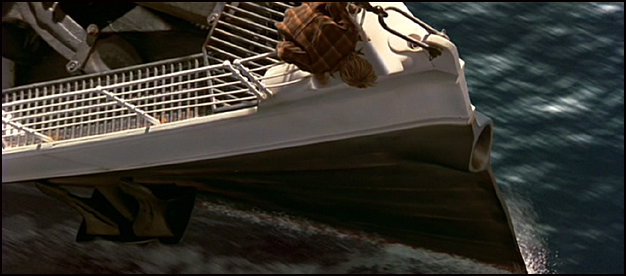 4.WHY WAS TITANIC CALLED THE RMS TITANIC?
RMS stands for Royal Mail Ship. Ships carrying this designation were authorized to carry the Royal Mail. The Royal Mail is the normal name for mail originating in the United Kingdom. Most of the Cunard and White Star ships were designated RMS.
5.HOW MUCH DID A TYPICAL 1ST, 2ND AND 3RD CLASS TICKET COST?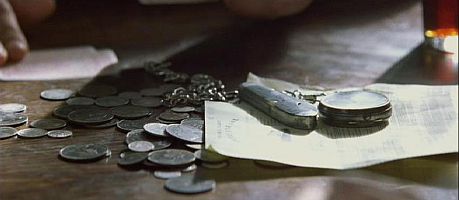 The first class tickets ranged enormously in price, from $150 (about $1700 today) for a simple berth, up to $4350 ($50,000) for one of the two Parlour suites. Second class tickets were $60 (around $700) and third class passengers paid between $15 and $40 ($170 - £460). If the Titantic was around today you could rent your own yacht for the price of a suite. You could also search for Viking yachts for sale online if you were looking for a a perfect yacht of your own.
6.HOW OLD WAS JACK AND ROSE
Rose was 17 and Jack was 23. Rose was 101 in the present story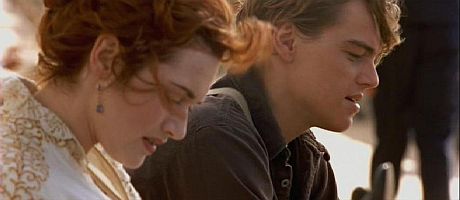 7.WHICH WERE THE FICTIONAL CHARACTERS?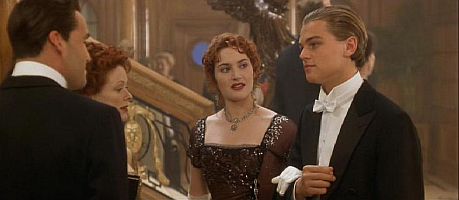 Jack, Rose, Cal, Ruth, Brock Lovett, Lovejoy, Fabrizio, and Tommy Ryan were all fictitious.
There was a confusion about Jack's character because there was a real passenger of Titanic named Joseph Dawson. His tombstone says J. Dawson so this created confusion among some of the fans of the movie.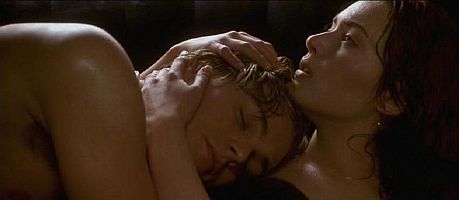 Even thought she was a high class girl in a very young age, most likely she wasn't a virgin. During breakfast Cal said to Rose "I had hoped you would come to me last night," in a nonchalant way, indicating that they may have been together before. Rose's casual response that 'she was tired' would indicate that she was not shocked by the suggestion and that it had occurred before.
9.WHAT IS THE SONG THAT JACK SINGS TO ROSE?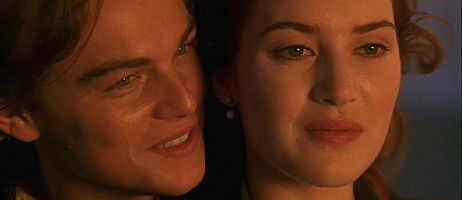 That song was a popular tune back then called "Come Josephine in my Flying Machine." It was first written in 1910 by Fred Fisher and Alfred Bryan, then recorded by Blanche Ring. In 1911 it was recorded again as a duet between Bill Murray and Ada Jones. This is also the same song that Rose was singing to herself to stay conscious when lying on the floating debris
10.WAS HEART OF THE OCEAN A REAL DIAMOND?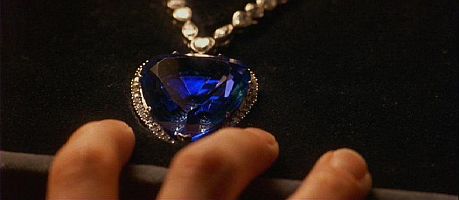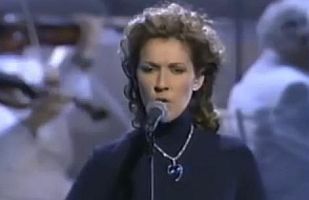 No. The Heart of the Ocean diamond is a fictional device that James Cameron added to the plot in order to give Brock Lovett a reason to hear Rose's story. The Heart of the Ocean is based on the famous Hope Diamond that King Louis XVI of France gave to Marie Antoinette to add to her jewelry collection. The Hope Diamond is currently on display at the Smithsonian Natural History Museum in Washington, D.C. It holds no place in Titanic history. As a result of moviegoer fantasies surrounding the fictional Heart of the Ocean, the Asprey & Garrard jewelry company decided to make a real Heart of the Ocean diamond necklace. The 170-carat sapphire, surrounded by sixty-five 30-carat diamonds, was worn by Celine Dion during her performance of "My Heart Will Go On" at the 1998 Academy Awards Ceremony. The necklace later sold at a benefit auction for $2.2 million.
11.WHAT GUN WAS CAL USING?
1912 Colt .45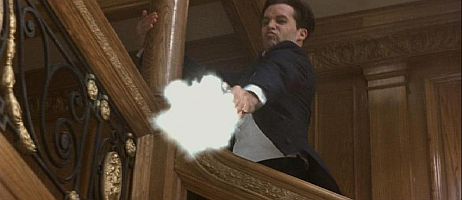 12.HOW BIG WAS THE ICEBERG?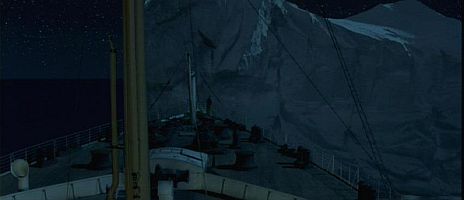 Observations of witnesses suggest it was100 to 120 feet high. Assuming the 'berg was roughly a cone shape with a diameter at the waterline of 100 feet, this would indicate the iceberg had a mass of between 20,000 and 25,000 tons.
Warm weather causes huge chunks of ice to break off of glaciers. The icebergs then float south with the ocean current until they eventually melt. The iceberg that Titanic hit most likely came from Greenland.
13.HOW COULD JACK AND ROSE RUN IN THE COLD WATER FOR SO LONG WITHOUT GETTING HYPOTHERMIA?
The water in the lower part of the ship would not be at the freezing level because the water came into the ship via the boiler rooms. By the time the water reached the lower decks it had been traveling through the ship for a little while and would have been warmed up quite a bit. Only the water coming in from the top decks at the end would have been at the freezing point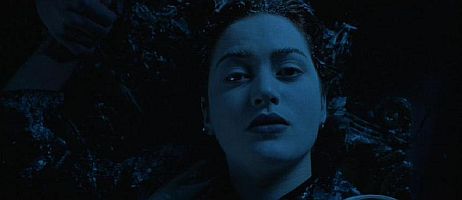 It's a condition in which an organism's temperature drops below that required for normal metabolism and bodily functions. In warm-blooded animals, core body temperature is maintained near a constant level through biologic homeostasis. But, when the body is exposed to cold, its internal mechanisms may be unable to replenish the heat that is being lost to the organism's surroundings.
On the night of the Titanic sinking, the temperature of the salt water was likely around 28° F. The human body loses heat to the water about 30 times faster than it does to the air. When the core body temperature falls to approximately 89° F, a decrease in consciousness occurs. If the core temperature cools to below 86° F, then heart failure becomes a major concern, as it is the most common cause of hypothermia-related deaths. The people in the bone chilling 28° water above the sinking Titanic would have had anywhere from several minutes to an hour to live, depending on their physical condition and how much they flailed. Some people in the water might have believed that swimming would help their body to generate heat. In reality, people who swam or moved around a lot would have lost heat 35-50% faster and been susceptible to exhaustion. There were even several people who died from hypothermia in the Titanic lifeboats, because they were open and gave no protection against the cold. Regulations have since been put in place that require lifeboats to be fully or partially enclosed.
15.WHAT HAPPENED TO RUTH?
Since she kept underlining that her lifestyle is only the result of riding on Cal's wave, she most likely became poor. Considering her personality and views on life and lower class, it's interesting how she would react to becoming one of those who she considered as unimportant and trivial as insects. She also could've gone mad. Not only because of her financial situation but also because of the loss of her daughter. Ruth seems to be very taken watching the sinking and then being numb and devastated afterwards in the boat. It's very possible that it was THEN that she realized what really matters in life and what she'd done to her daughter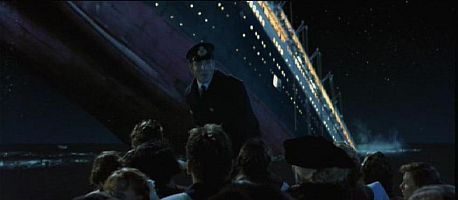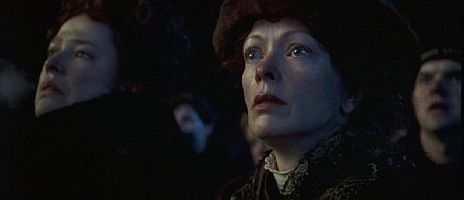 16.HOW DID THE TITANIC'S ELECTRICAL SYSTEM MANAGED TO OPERATE AS LONG AS IT DID?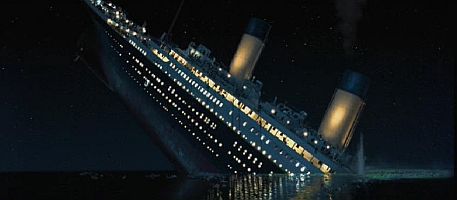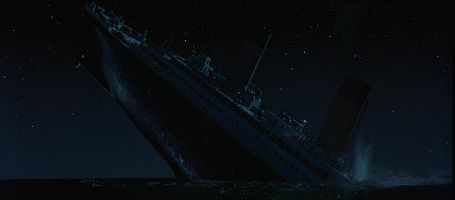 Chief-Engineer Joseph Bell was determined to keep the power going for as long as possible after the collision with the iceberg. The lights would stay lit, the pumps kept going and the wireless would still work. To make things easier for the men to move about he had the watertight doors aft of the Boiler Rooms (Orlop-Deck) opened. He reasoned when the water reached that far it would be easy enough to close them.
The crew worked hard to maintain electrical power during the crisis. The engineers did not know if help would come and from their position deep in the heart of the dying ship they were isolated from the open deck and the stars above. Trapped in a steel tomb their fear and anguish can only be imagined but they knew what was required of them and they did their duty to the passengers and their fellow seamen. Pumping and electrical lighting had to be maintained as long as possible and all engineers stayed at their tasks until the very end.
17.WHY DID THE SHIP BREAK IN HALF?
The stress on the hull caused Titanic to break apart between the last two funnels. Titanic reached a high angle, over 30 degrees. This was something that titanic wasn't designed to withstand. The break up started in a lower angle,11 degrees, and progressed in 2 stages.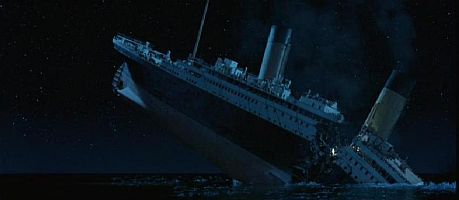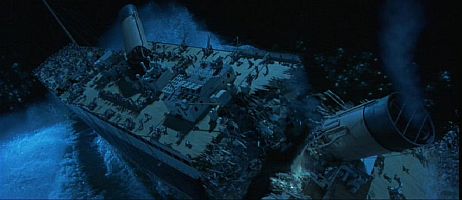 18.WHY DIDN'T ROSE COME BACK TO THE SITE OF TITANIC'S WRECK EARLIER?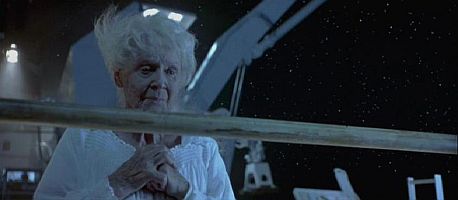 She didn't need to. Its doubtful that she was planning to return the diamond to the ocean before. She simply kept it as a memento of that faithful night and all she had left aside from her memories. Not to remind her of the tragedy. The faithful night wasn't just the day of the tragedy - it was also the day Jack and Rose truly united and when she decided that she wants to spent the life with him instead of marrying cal.
19.DID ROSE DIED IN THE END?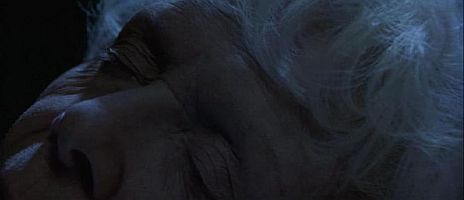 Most likely. On the DVD commentary, James Cameron said that he wants to keep the answer to himself but it seems like she died. It provides a good closure to Rose's story showing her fulfillment of the promise she made to Jack about living the full life (we see the pictures showing her 'full life') and dying as an old woman in her warm bed (after the pictures the camera slides on Rose). The scene is the 'Promise kept' spelled out
20.HOW DEEP IS THE TITANIC IN THE OCEAN? It was found at a depth of 2.5 miles (4.02 km), slightly more than 370 miles (595.46 km) south-east of Mistaken Point, Newfoundland , 13 miles
(20.92 km) from fourth officer Joseph Boxhall's last position reading where Titanic was originally thought to rest.
The bow section had struck the ocean floor at a position just under the forepeak, and embedded itself 60 feet (18 m) into the silt on the ocean floor. Although parts of the hull had buckled, the bow was mostly intact. The collision with the ocean floor forced water out of Titanic through the hull below the well deck. One of the steel covers (reportedly weighing approximately ten tons) was blown off the side of the hull. The bow is still under tension, in particular the heavily damaged and partially collapsed decks.

The stern section was in much worse condition, and appeared to have been torn apart during its descent. Unlike the bow section, which was flooded with water before it sank, it is likely that the stern section sank with a significant volume of air trapped inside it. As it sank, the external water pressure increased but the pressure of the trapped air could not follow suit due to the many air pockets in relatively sealed sections. Therefore, some areas of the stern section's hull experienced a large pressure differential between outside and inside which possibly caused an implosion. Further damage was caused by the sudden impact of hitting the seabed; with little structural integrity left, the decks collapsed as the stern hit.

Surrounding the wreck is a large debris field with pieces of the ship, furniture, dinnerware and personal items scattered over one square mile (2.6 km²). Softer materials, like wood, carpet and human remains were devoured by undersea organisms.
TITANIC
1997 20th Century Fox
Director: James Cameron


Writer: James Cameron
Actors: Leonardo DiCaprio, Kate Winslet, Billy Zane, Kathy Bates



Composer: James Horner Producers: James Cameron and John Landau
Release Date: December 19, 1997
Running Time: 3 hrs. 14 min.
MPAA Rating: PG-13 Production Budget: $200 million
BOX OFFICE
Opening Weekend: $28,638,131
Domestic: $600,788,188
Foreign: $1,242,091,767

Worldwide: $1,842,879,955 (Adjusted for inflation:$2,423,768,132)
After 3D re-release:
Domestic: $658,672,302
Worldwide: $2,186,772,302

Academy Awards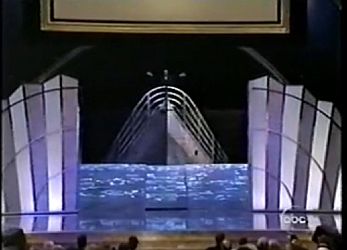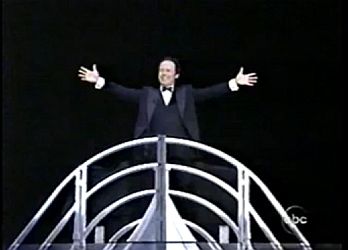 Won (Most Oscars ever - 11):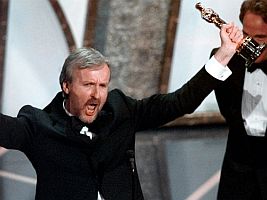 Best Art Direction-Set Decoration
Best Cinematography
Best Costume Design
Best Director: James Cameron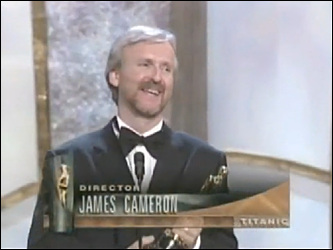 Best Effects, Sound Effects Editing
Best Effects, Visual Effects
Best Film Editing: Conrad Buff IV, James Cameron, Richard A. Harris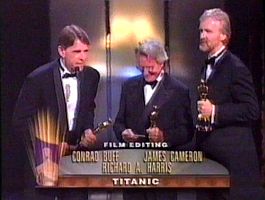 Best Music, Original Dramatic Score: James Horner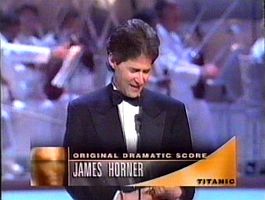 Best Music, Original Song: James Horner (music), Will Jennings (lyrics)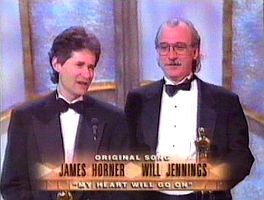 Best Picture: James Cameron , Jon Landau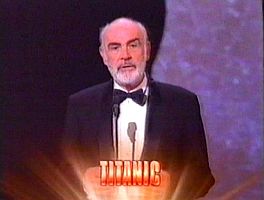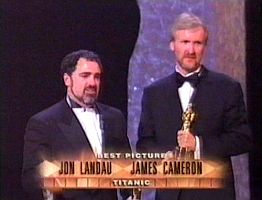 Best Sound
Nominated:
Best Actress in a Leading Role: Kate Winslet
Best Actress in a Supporting Role: Gloria Stuart
Best Makeup
Golden Globes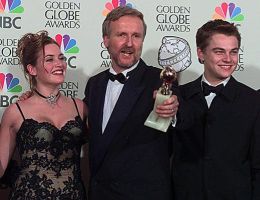 Won:
Best Director
Best Motion Picture
Best Original Score
Best Original Song
Nominated:
Best Performance by an Actor: Leonardo DiCaprio
Best Performance by an Actress: Kate Winslet
Best Performance by an Actress in a Supporting Role: Gloria Stuart
Best Screenplay
Grammy Awards
Won:
Best Song Written Specifically for a Motion Picture
MTV Movie Awards
Won:
Best Male Performance: Leonardo DiCaprio
Best Movie
Nominated:
Best Action Sequence for the ship sinking scene.
Best Female Performance: Kate Winslet
Best Kiss
Best Movie Song
Best On-Screen Duo
Best Villain: Billy Zane
People's Choice Awards
Won:
Favorite Dramatic Motion Picture
Favorite Motion Picture
ASCAP Film and Television Music Awards
Won:
Most Performed Songs from Motion Pictures
Top Box Office Films
Academy of Science Fiction, Fantasy & Horror Films
Nominated:
Best Classic Film DVD Release
Best Supporting Actress: Gloria Stuart
Best Action/Adventure/Thriller Film
Amanda Awards
Best Foreign Feature Film
American Cinema Editors
Won:
Best Edited Feature Film
American Society of Cinematographers
Won:
Outstanding Achievement in Cinematography in Theatrical Releases
Annie Awards
Best Individual Achievement: Technical Achievement
Art Directors Guild
Won:
Excellence in Production Design
Awards of the Japanese Academy
Won:
Best Foreign Film
BAFTA Awards
Nominated:
Best Cinematography
Best Costume Design
Best Editing
Best Film
Best Make Up/Hair
Music
Direction
Best Production Design
Best Sound
Best Special Effects
BMI Film & TV Awards
Won
Most Performed Song from a Film
Blockbuster Entertainment Awards
Won:
Favorite Song from a Movie
Favorite Actor - Leonardo DiCaprio
Favorite Actress - Kate Winslet
Favorite Supporting Actor - Billy Zane
Favorite Supporting Actress - Kathy Bates
Nominated:
Favorite Soundtrack
Blue Ribbon Awards
Won:
Best Foreign Language Film
Bogey Awards - Won
Brit Awards
Won:
Best Soundtrack
British Society of Cinematographers
Won:
Best Cinematography
Broadcast Film Critics Association Awards
Won:
Best Director
Nominated:
Best Picture
Casting Society of America, USA
Nominated:
Best Casting for Feature Film
Chicago Film Critics Association Awards
Won:
Best Cinematography
Best Original Score
Nominated:
Best Director
Best Picture
Cinema Audio Society
Won:
Outstanding Achievement in Sound Mixing for a Feature Film
Czech Lions
Won:
Box Office Award
César Awards
Nominated:
Best Foreign Film
Dallas-Fort Worth Film Critics Association Awards
Won:
Best Director
Directors Guild of America
Won:
Outstanding Directorial Achievement in Motion Pictures
Empire Awards
Won:
Best British Actress: Kate Winslet
Best Film
European Film Awards
Won:
Best Actress
Kate Winslet
Florida Film Critics Circle Awards
Won:
Best Cinematography
Best Film
Golden Camera
Won:
Film - International: Kate Winslet
Golden Screen
Won:
Golden Screen - Special Award
Hochi Film Awards
Won:
Best Foreign Language Film
International Monitor Awards
Won:
Theatrical Releases - Color Correction
Kansas City Film Critics Circle Awards
Won:
Best Director
Best Film
Best Supporting Actress: Gloria Stuart
Kids' Choice Awards
Won:
Favorite Movie
Las Vegas Film Critics Society Awards
Won"
Best Cinematography
Best Director
Best Original Song
Best Picture
London Critics Circle Film Awards
Nominated:
British Actress of the Year: Kate Winslet
Director of the Year
Film of the Year
Los Angeles Film Critics Association Awards
Won:
Best Production Design
Mainichi Film Concours
Won:
Best Foreign Language Film
Mexican Cinema Journalists
Won:
Best Foreign Film
Motion Picture Sound Editors
Won:
Best Sound Editing - Dialogue & ADR
Best Sound Editing - Music (Foreign & Domestic)
Best Sound Editing - Sound Effects & Foley
National Board of Review
Won:
Special Citation
Online Film Critics Society Awards
Won:
Best Director
Best Supporting Actress: Gloria Stuart
Nominated:
Best Actress: Kate Winslet
Best Film
PGA Awards
Won:
Motion Picture Producer of the Year Award
Satellite Awards
Won:
Outstanding DVD Extras
Best Director of a Motion Picture
Best Motion Picture
Outstanding Art Direction
Outstanding Costume Design
Outstanding Film Editing
Outstanding Original Score
Outstanding Original Song
Nominated:
Outstanding Classic DVD
(Special Collector's Edition).
Outstanding Overall DVD
Best Motion Picture Screenplay - Original
Best Performance by an Actor in a Motion Picture - Leonardo DiCaprio
Best Performance by an Actress in a Motion Picture - Kate Winslet
Outstanding Cinematography
Outstanding Visual Effects
Screen Actors Guild Awards
Won:
Outstanding Performance by a Female Actor in a Supporting Role: Gloria Stuart
Nominated:
Outstanding Performance by a Cast
Suzy Amis
Kathy Bates
Leonardo DiCaprio
Frances Fisher
Victor Garber
Bernard Hill
Jonathan Hyde
Bill Paxton
Gloria Stuart
David Warner
Kate Winslet
Billy Zane
Danny Nucci
Bernard Fox
Outstanding Performance by a Female Actor in a Leading Role: Kate Winslet
Writers Guild of America
Nominated:
Best Screenplay Written Directly for the Screen